No Win, No Fee flight delay compensation claims

If you choose FairPlane UK to handle your claim, then there's absolutely nothing for you to pay up front.

If your claim is successful, we will then simply take our fee from the compensation we obtain for you from the airline.

In the unlikely event that your claim is unsuccessful, you will have nothing to pay. No surprise legal bills or any hidden costs. We will not charge you for the time we have spent working on your case.

Our charges

FairPlane UK has a fantastic record when it comes to winning compensation for flight delay and cancellation claims.
We only charge you for our service when we successfully win your claim. Once we recover your compensation from the airline we will take a £25 Admin Fee plus 25% + VAT of the compensation recovered; You will never be faced with any unexpected legal bills.

The service we provide

All the claims for flight compensation we take on are done so on a no-win no-fee basis. This means that the client faces no financial or legal risk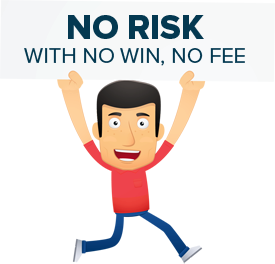 whatsoever during the process.

To ensure that we give claims the best possible chance of succeeding, we provide the following to all clients:


A legal letter is drafted and sent to the airline

Production of an expert report to combat 'technical defect' arguments if required (cost approx. £750)

Production of an expert report to combat 'weather' arguments if required

The drafting of court proceedings if required

The payment of court fees if required (cost approx. £150)

Representation in court by a lawyer if required

What happens if I lose?

If you lose, we agree to be responsible for all charges, court fees, barrister fees and any legal costs which are awarded against you. This means you are not at risk of paying legal costs by making your claim.



What would it cost if I tried to make a claim myself?

Before making the decision to pursue a claim for flight delay compensation yourself, we would recommend that you give serious consideration to both the potential financial costs of doing so and the cost in terms of time and stress.

It is likely that you would have to pay some up-front costs initially, and then if court proceedings needed to be issued against the airline, an insurance fee of around £75 and a hearing fee of £105 would be required.

The process could take you weeks or even months to complete during which time you may have to write letters, read up on the regulation, prepare court proceedings, and attend court.